Febreze is among the most popular odor-eliminating products, but have you heard that the good brand also produces a product line of allergen spray for eradicating dust mites? However, the manufacturing of some products has been discontinued, but you can find a product line of allergen reducer by Febreze at online stores.
Febreze originated from North America, and the product is available all over the world. They have been selling products associated with air fresheners that focus on different household items and areas. Febreze discontinues some allergen-reducing products due to several issues, but you can find those products available at online stores.
Does Febreze Kill Dust Mites?
Most of you might wonder, does Febreze really have effective results in eradicating dust mites? Well, there is not a single study carried out by an authorized third party to check the effectiveness of the allergen spray by Febreze in eliminating dust mites.
But the positive aspect of these allergen reducer products is that Febreze is certified by asthma and allergy foundation of America as asthma & allergy friendly. According to the reviews given by certified users, these allergy sprays by Febreze can reduce the number of allergens up to a certain extent.
Does Febreze Reduce Allergens?
According to recent studies, yes, up to a certain extent, it shows that Febreze allergen reducer spray can decrease the number of allergens from dogs, cats, and dust mites by 75%, which have higher chances of getting airborne. Therefore, it is always better to clean your bedsheets under hot water and bathe your pets.
You can even use the Febreze products once or twice a week. All you have to do is spray the product over the fabrics of your pet bedding, furniture and wait until it damps.
How To Use Febreze To Kill Dust Mites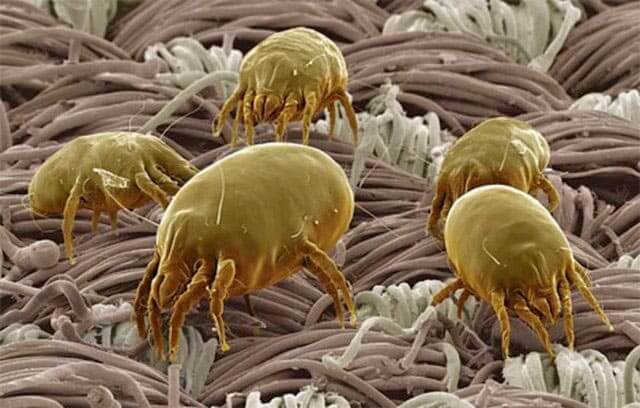 Febreze allergen reducer products are integrated with a unique technology that traps the allergen particles with the fabric and acts as a net over the allergen particles. Once these particles are trapped, they can be removed using a vacuum.
This technology helps in keeping the allergen particles from becoming airborne and leaves a fresh scent by eliminating the odor. If you want to kill the dust mites effectively, you have to follow the below steps.
Steps For Eliminating Dust Mites Effectively
First, you need to use a Febreze allergen reducer on your rugs and fabrics until they settle down on the surface. The technology incorporated by the company will keep the allergen particles from getting into the air and eradicating the odors.
Once it has completely settled down, the product will leave a fresh scent. However, these are available in three different scents freshly clean, clean splash, and soft & light.
After that, you need to use your vacuum and thoroughly clean the fabric, carpet, and other fabrics where you have sprayed the product. The vacuum will help in sucking up most of the allergen particles and clean the fabrics.
Safety Problems On The Febreze Products
People might get concerned because there aren't any details regarding the list of ingredients on the products of Febreze. But you should know there are no immediate side effects of using the Febreze allergen reducer. As mentioned above, Febreze products are certified allergen and asthma-friendly, which means you can use them around pets and humans.
Even though you are more into natural remedies, it is always worth taking a peek into the ingredients used while manufacturing the Febreze products. However, they don't share the quantity used to make an exact solution like Febreze.
You can check the list of ingredients on the official site of Febreze. You should know that some chemicals are involved, such as didecyl dimethyl ammonium chloride, benzisothiazolinone, and other components.
Other Natural Methods To Kill Dust Mites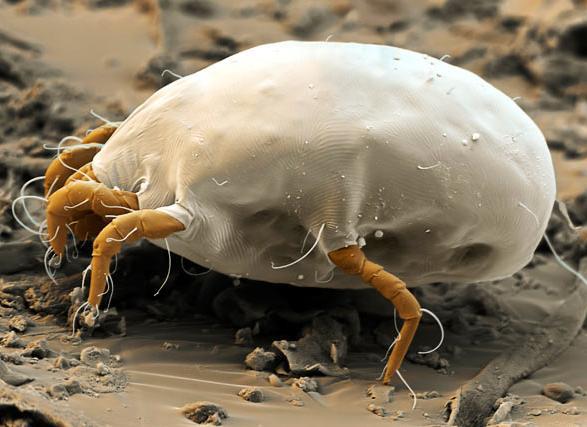 While bragging about the efficiency and safety of using Febreze products, you should focus on some natural methods to eliminate dust mites. However, some people do not prefer air fresheners over natural remedies. However, natural solutions might take longer to eliminate the dust mites, but you would be assured that there will be no hazardous health effects. If you are looking for some useful natural alternatives to Febreze products, here are some products.
Eucalyptus or essential oils are widely used for killing dust mites. However, clove oil has shown effective results in eradicating microscopic pests such as dust mites. You might not know about these oil types, but you should know that a study was carried out comparing the effectiveness of six different oils on the mortality rate of dust mites.
If you consider this option for killing those microscopic pests, you would need a UV-protected spray bottle, which assists in keeping the antimicrobial properties of the essential oils. All you have to do is fill the bottle with water and add a small tablespoon of clove oil.
After that, you need to shake the bottle gently and spray it on fabrics or other areas where the habitat of dust mites, such as dark and moist places near your bedroom. The fabric will absorb the spray practicals, and it will slowly start reducing the dust mites.
If you don't have time to indulge in creating DIY oil sprays, fortunately, you can focus on natural sprays, which effectively kill these microscopic pests. Many companies are producing dust mite sprays, which are made of biodegradable ingredients. That means these ingredients are non-toxic to both the earth and humans.
Final Thoughts
In the end, Febreze products are always considered first when it comes to killing dust mites. However, you should know that it is a major part of your grand plan for reducing dust mites. To keep your home safe from dust mites, you need to maintain proper hygiene in your bedroom and home.
Most of you know that humidity is the best environment for these dust mites to grow. Whether you use Febreze or not, keeping your home and bedroom clean would help in reducing the chances of having dust mites.